It's been months since the beginning of the COVID-19 pandemic, but as we are entering what is considered the peak shopping period of the year we wanted to review a few things to help make your shopping experience easier during this difficult time.
Tepperman's SAFE STORE MISSION is our framework to help our customers, employees and our community stay safe and healthy. If you are showing symptoms or have been in contact with someone who has test positive for the virus, you should definitely stay in. You can shop online or even book a virtual appointment. We've compiled this additional list of tips for those of you who are looking to shop during the 2020 Holiday Season.
1. Protect Yourself and Others. It's important that you wear a face mask to cover your nose and mouth when visiting indoor places or anytime that socially distancing isn't possible. Always keep a 6-feet distance from other people and make sure you avoid touching your face with unwashed hands. Our large showrooms easily accommodate social distancing, but some other stores may not be able to easily.
Many stores have increased the cleaning regimen of high traffic areas or touch points. We also recommend that you use hand sanitizer provided at the store entrance and checkout counter, or bring your own if visiting a store that does not provide it. At Tepperman's you'll find hand sanitizer placed throughout the store for customers and associates. It's a good idea to sanitize your hands both after entering and exiting a store.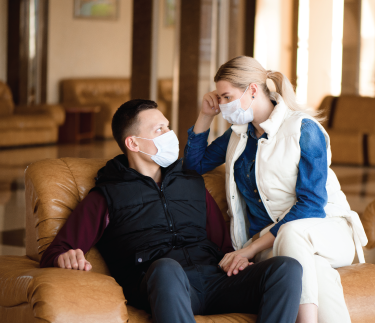 "Be Patient and Courteous to Others."
2. Make a Shopping List. Making a shopping list is a good practice even in a non-pandemic world, but even more so now. It helps reduce the amount of shopping time and walking around back-n-forth in the store. It's good to have your desired items in mind to keep you focused when shopping. A greeter may ask you which specific section of the store you're visiting in order to ensure that shoppers are sufficiently socially distanced. Tepperman's uses door monitoring to control the number of people allowed inside the showrooms at one time. Also be sure to follow any directional signage that is in place to help control the flow of traffic.
3. Be Patient and Courteous to Others. It's a difficult and scary time for many of us and it's important to be patient and courteous to others to limit your stress and the stress of other customers and employees. Stores must limit the number of shoppers to ensure safe distancing, so waiting in line is a definite possibility when shopping, that may be to enter the store, access a particular section or check out, be patient and prepared that shopping may take longer than normal.
Be sure to check online or call the store before visiting for revised hours or any extended holiday hours to help plan out the best times to shop. Stores may have extended sale times or begin promotions early to help ensure all customers can get served during this busy shopping period.
With these tips in mind, you'll be making your Holiday shopping experience a little less stressful and help keep friends, family and the community healthy, happy and safe!
Happy shopping!