Being successful in home-based work requires creating a space that promotes efficiency in a non-traditional work environment. You'll want to define a work area that separates your business from your personal life regardless of if you're self-employed, working remotely or doing freelance work from home. The location, lighting, and organization are all important to creating the perfect space. Plan out the things that you'll need to work comfortably and efficiently in your home office and make yourself a budget. We've outlined some work from home ideas to consider when creating your home office design layout.
1. Location, Location, Location
You'll be spending many hours in your home office, so picking a good location for your home office set up is important. Ideally, your office should be in a quiet area that allows you some privacy. This is especially important if you share the house with a spouse, children, or roommates. It will also help reduce background noise when you have virtual meetings or phone calls to make during your workday. Also, consider the traffic flow of your living space and your ability to be tempted away from a productive day at the home office by distractions.
2. Mission Control
Your desk shape and size will depend on what kind of work you do. Is most of your work done digitally or do you push lots of paper? Consider your workflow and what items you need at your fingertips before investing in furniture, and then look for pieces that are both functional and suit your personal style. A mix of classic and contemporary pieces paired with bright colors and fun accessories puts a twist on the traditional home office style and can inspire your creativity.

3. Sitting Pretty
You'll spend hours in your office chair; a beautiful, ergonomically correct, comfortable seat is worth it. Select a chair that is comfortable, the right size for your body, and provides proper back and arm support for your desk. A chair with wheels will make it easier for you to maneuver. If your office doesn't have hard surface flooring you may need to purchase a plastic mat for under your desk to allow your chair to move freely.

4. Colour outside the Lines
Save the "office beige" for the corporate hallways. This is your space define it with colour that motivates or inspires you! You need a colour that gets your work brain going. For some, it may be a bright colour like pylon cone orange or school bus yellow. Others need a calming shade like mint green or baby blue to perform. Make space more inviting by adding patterns, window treatments, and furniture to express that style and compliment your wall colour.
5. Room with a View
Position the desk where you can stare at something more interesting than a blank wall when you glance up from the computer. A window's natural light is ideal, but if you're in a windowless space, hang something inspirational to look at above the desk, like a piece of artwork or a photograph of your favourite vacation spot. Whatever you choose it should bring a smile to your face.
Home Office Tip:
Using a footrest under your desk might be the best thing you ever do. Raising your feet off the floor, 6-10 inches is a more comfortable way to sit but has other benefits including helping you adopt better posture.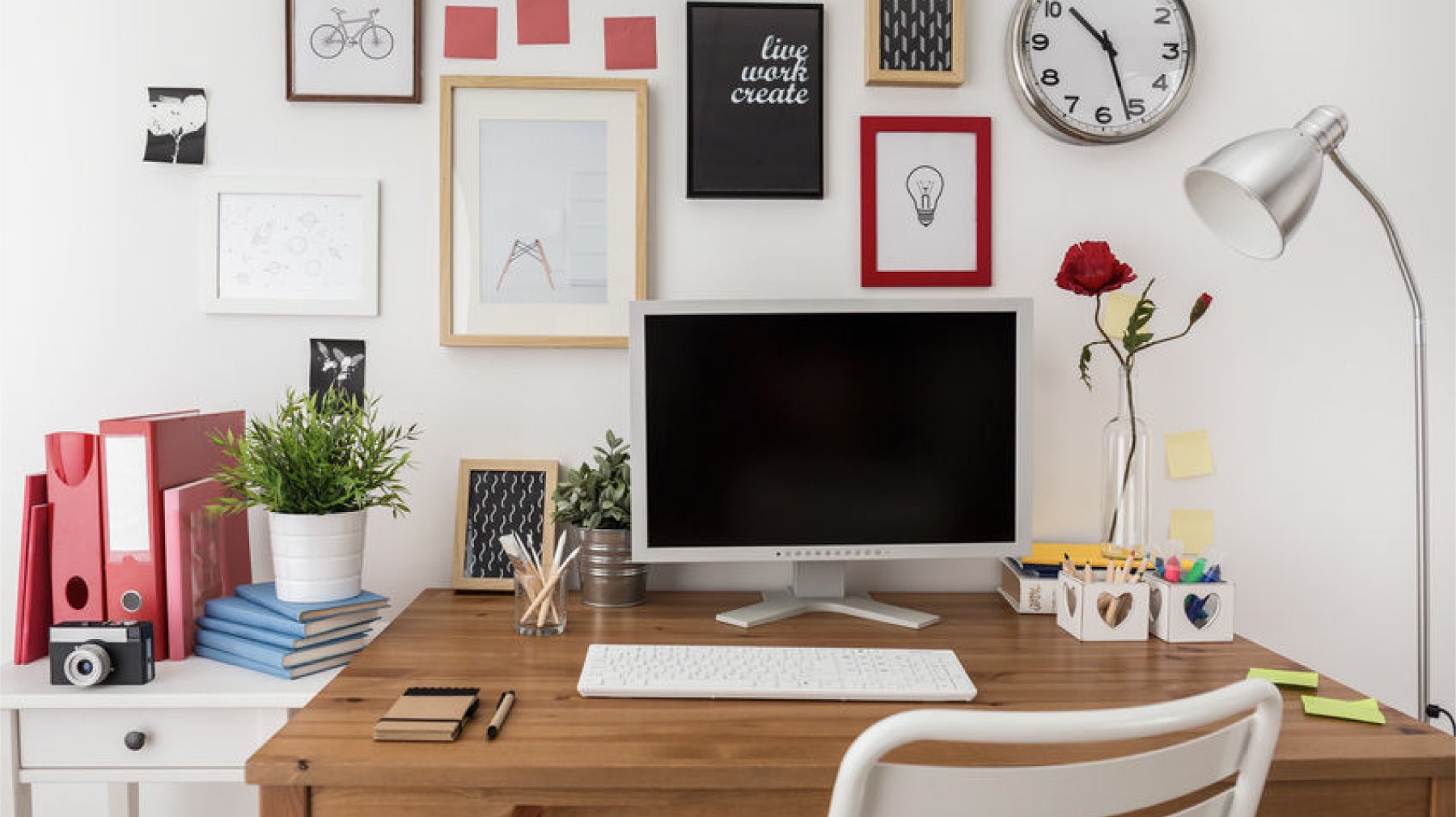 Home Office Tip:
an accent chair is the perfect way to add that extra punch to your room colour and help tie all the elements together.

6. Style Incorporated
Home office furniture should complement other rooms in your house instead of screaming corporate structure. If your home has traditional decor, warm wood and soft, comfy chairs or a loveseat for extra seating are ideal if you have the space. A contemporary home office can feature more clean lines or modern mixes of material for your home office furniture.
Unless you're going for a clean modern look, choose extras that connect your space with your home, like a fancy mug or vase for a pencil holder, decorative notepads, fun sticky notes, and a handy wastebasket can all help personalize your space. Wrap your bulletin board in a complimentary fabric or vintage scarf. Hang inspirational prints on the walls, whether that's your kids' art project or a painting you enjoy.
Home Office Tip:
cords can add to office space clutter so manage unsightly cords with fabric cord covers or feed cords through desk grommets if available. You can also tame the cord jungle on the floor with cord winders, tubing, or a wire organizer that's attached to the bottom of the desk and lifts the cords off the floor.

7. Organization is the key to your success
Many home offices often don't have lots of square footage, so using space efficiently is imperative. Clutter is very distracting and reduces efficiency, so sort through your supplies and get rid of anything extra. Use bookshelves to get papers and office equipment off the desk, and use vertical file folders to keep important papers within reach. If you have lots of paper on your desk you may want to look at storage options with doors to help hide clutter. Decorative boxes for storage of papers or supplies is also a great home office idea that will keep your space looking clean and organized.

8. Keeping your cool
Depending on the time of year or you may be looking for some heat as well. Room temperature is essential to your working from home productivity. The ideal temperature in an office is 20-22°C or 70-72°F, but everyone is different. To warm and you could be falling asleep at your desk, to cold and you may find it hard to type with gloves on. The good news is you don't have to find a temperature that makes everyone in your office happy anymore, you're in charge…it's up to you!
Home Office Tip:
if you recently started working from home you may need to adjust your programmable thermostat to turn the temperature up or down if it was operating on an energy saving setting when you where not at home.
Home Office Tip:
utilize LED lighting to reduce energy consumption and increase the lighting level, as long as the LED bulb uses less wattage than your fixture maximum. When you see an LED label say "100-Watt LED equivalent" that does not mean that the bulb actually uses 100 Watts, it means that it produces an amount of light equivalent to a 100-Watt incandescent bulb. (learn more)
9. Light the way
Make sure your office has plenty of light to cut down on eye strain and headaches. Position the computer monitor so there's no glare from a window or overhead light. It's extremely important to have proper lighting in a home office with overhead, task or natural light all will help reduce eye strain. A desk lamp helps keep the focus on your work area.

10. Make it Personal
Remember you're the boss in your home office so make it yours since your home office may be sharing space within another room in your home! Include personal items, a piece of framed art or a special photo on your desk that motivates you to create and get stuff done so you can enjoy your time out of the office. Add a plant or two in your workspace as an added touch as it improves air quality by creating oxygen. Research has shown that having plants in your office can also increase productivity and make you happier while you work
Planning your home office space, getting it organized, and decorating it to express who you are, will make your new space more enjoyable for you. Your work will be better, you'll appreciate being at home, and you'll have the perfect place to work: your home. Plus the commute is amazing.